Hobo 5 Space Brawl
Description:
Hobo has been abducted by aliens and finds himself on a UFO in deep space. Aliens have used his DNA to clone him and are in the process of making a hobo army. They also drained Hobo of all of his combo moves, so he has to fight aliens and hobo clones to get them back!.Hobo 5 Space Brawl has a vast list of categories, for example driving and game for boys and many more such as popular, racing games as well. This is an HTML5 game so all you need is a browser to run it. Start with using your finger on mobile and mouse and keyboard on PC in this game. Feel yourself at home playing Hobo 5 Space Brawl online game for free on Playcab.com.
About this game:
Game Title: Hobo 5 Space Brawl
Category:
Language: English
Played Total: 2617236
PLAY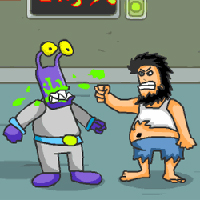 To control Hobo 5 Space Brawl game, simply use your finger to control if you use your mobile phone or tablet. Or use your keyboard and mouse if you play it on your desktop.This game doesn't require installation. You can play immediately on your mobile phone, tablet or desktop devices. You can also find the similar games on our website, just click or tap and have fun!